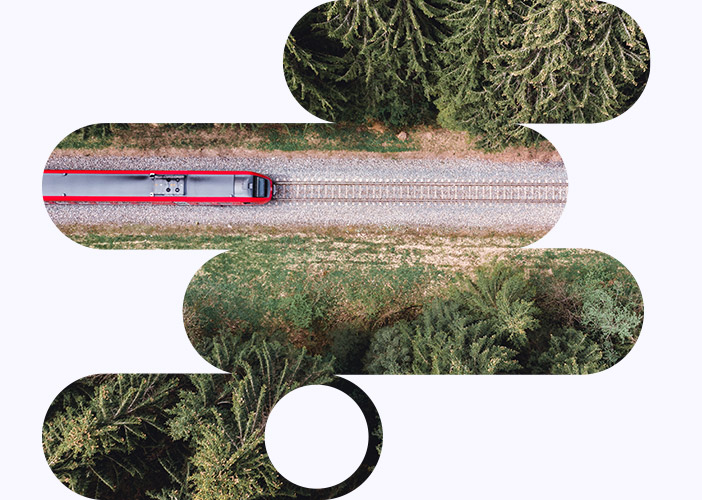 Transportation
Transport infrastructures are facing a number of developments that strongly affect existing and future systems.

Energy transition, increasing urban mobility and multiple interconnections between cities and countries are all new challenges.
context
The current state of transport infrastructures cannot cope with the continuous increase in the number of transport users. The global phenomenon of urbanisation, environmental issues and interoperability needs will radically change transport systems. Stricter requirements for safety, reliability, comfort and environmental standards will also have to be met.
Disruptive digital technology will also revolutionize projects and transport infrastructures, which have become complex, due to the increasing number of users.
Find solutions for ageing transport infrastructures and high populations growth
Faced with an increasing number of users of public transportation, the challenge is to maintain and upgrade the existing infrastructure and increase the capacity, while also ensuring continuity of service. Renovation, upgrading, and maintenance operations must be seen as an opportunity to introduce digital technologies that offer predictive maintenance solutions. These should guarantee that the system runs smoothly and is reliable, with minimal or no downtime.
Develop sustainable infrastructures that consume less energy
Infrastructures must become 'smarter'. They must incorporate modern information and communication technologies to ensure safety, speed efficiency and environmental performance via effective traffic management and high-performance information and alert systems. The use of PLM (Product Lifecycle Management) tools is a system-based approach that has become indispensable to ensure control over construction costs and energy management.
Meet the challenge of international competitions between territories
To make themselves attractive to investors, territories must have an efficient transportation network offering local services. The challenge is to offer the safest and highest quality services possible (reliability, comfort) in compliance with environmental standards, while meeting the specific needs of each territory and its users. This means offering diversified, up to date and economical solutions.
Take into account the critical nature of transports infrastructures
Transportation networks have a critical role in our society. They are the lifelines to our regions and places where people gather and interact. To guarantee smooth and fluid operations, it is crucial to have reliable and safe facilities that provide services which meet users' needs, made possible by implementing digital solutions and systems.
OUR EXPERTISE IN TRANSPORTATION
Our expertise, in complex and highly regulated environments, is inherited from our developments in at least four countries: project management of large transportation infrastructures in France, design and project management of large transportation infrastructures in India, safety analysis in the UK, and design of transportation infrastructures in Saudi Arabia.
We provide assistance to public and private players in urban, suburban, regional and international networks, both for rail and air transport:
Metros & Railways: we have provided consultancy services on metro rail projects for three decades and have strong expertise in traffic network, tunnels, underground crossovers, elevated viaducts and stations or underground station. We have also developed expertise over the years in planning entire rail systems, including track design, associated rail infrastructure such as station buildings, locomotive sheds, water supply, electrical services, rail accessory production plants, rail car unloading management, and the rehabilitation of rail structures.
Airport & Aviation: we offer comprehensive design and project management consultancy services in the field of airports and aviation. We have expertise in techno-economic feasibility studies and master planning of airport infrastructure, including airside and landside infrastructure design as well as the design of integrated terminal buildings catering to international and domestic traffic, the design of air traffic control towers, ground handling facilities, and cargo terminals, including logistic facilities for storage and warehousing.
For both rail and air sectors, our major strengths lie in managing large infrastructure projects and our ability to integrate systems. 
The systems delivered by Assystem for transportation networks include instrumentation and control systems (signalisation, CBTC, ATS), system equipment (rolling stock, railway, electric traction, overhead lines, garages) electromechanical equipment (HVAC, smoke extraction, people with reduced mobility, elevators, escalators), power distribution (transformer and distribution substations), information and surveillance systems (passenger information systems, vehicle scheduling control system, video surveillance).
We are also involved in numerous infrastructure projects such as roads, bridges, etc. Discover our expertise for urban and territorial development.
Understanding of sector specific and local regulations

Using digital technologies for interface management and legacy inclusion

Enabling development of green hydrogen in mass transportation

Continuity between development and operations
Our references in transportation