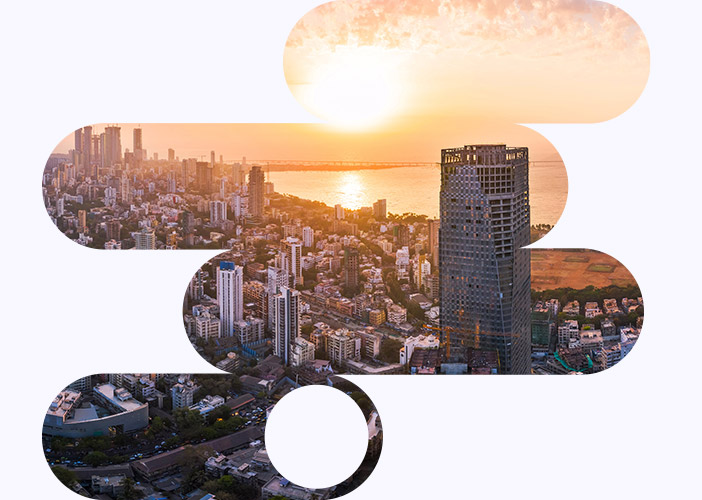 CITIES & TERRITORIAL DEVELOPMENT
Throughout the world, many urban or territorial developments are required, whether to support population growth, improve the quality of living conditions, or develop new areas (economic, touristic and heritage).
Context
Our future living standards will be heavily influenced by what we build today and how we design it. These transformations are essential for the future of our territories. They must also be conceived taking into account their important repercussions on the environment and the daily needs such as water, transportation, sanitation, recycling, etc.
Supporting the development of major urban projects
In the next 100 years, urban populations are predicted to double in size. Numerous large urban programmes are being launched around the world: these urban infrastructure and facility development projects are being launched both in the context of renovation of existing cities or neighbourhoods and in the context of creating new smart cities on undeveloped sites. These mega urban projects require strong competences in planning and zoning to manage development sustainably, with respect for the expectations of the client, the interests of all stakeholders involved, the technical and environmental constraints, and the local codes and regulations.
Developing sustainable infrastructures to accompany the territorial development
These types of large territorial projects feature a multitude of integrated sub-projects such as: development of large infrastructures, public facilities, utility networks, roads, flyovers, bridges and much more. All these complex infrastructures must be anticipated and adapted to the specificities of each client and of each territory, according to local environmental, social and economic constraints. Advanced expertise in feasibility studies, master planning, engineering and project management is therefore essential to coordinate the development of infrastructures that will ensure growth of the territory.
Managing water resource systems, storage and utility structures
In some regions of the world, development of the territory necessarily comes with environmental adaptations and the development of drinking water resources. Consolidation of water resource systems, water storage, treatment of wastewater and utility structures require specific investigations regarding the availability of natural resources to optimise their use for both domestic and agricultural benefit. The impact of this type of structuring operation is significant for a territory and responds to objectives set by national governments.
OUR EXPERTISE IN CITIES & TERRITORIAL DEVELOPMENT
Assystem's project management, engineering, industrial information systems and design skills support private and public sector clients and contractors in territorial and urban development. We examine and integrate the specific features of each infrastructure, using our multidisciplinary and cross-sector expertise:
Cities and urban development: Whether redevelopment of the public domain or conception of new urban areas, we combines quality of design with thorough planning to ensure the technical feasibility of projects and their realisation within specific and multiple constraints. The success of these multidimensional urban projects lies in the complementary nature of the teams' skills: analysis and preliminary site study, master planning, design, engineering, review and upgrade of the norms and standards, project management for the complete life cycle of the project... It is the combination of all these solutions that will guarantee the success of the project, while respecting the environment, society, and the clients' specifications. With the advent of smart city thinking, buildings must also be designed to fit into a larger and more coordinated vision in terms of energy consumption, workplace optimisation and security. The design of tomorrow's buildings will be just as important as systems engineering and traditional building construction. From conception to realisation, we support many complex buildings projects such as stadiums, hospitals, logistic and retail centres, etc.
Territorial infrastructures: As true Owner Engineer, Assystem takes care of large and complex projects of territorial infrastructures over a full lifecycle. Thanks to the many years of experience of our teams, particularly through our centre of expertise in India, we support owners, BOT operators and EPC contractors in the development of rural and urban roads, national and state highways, expressways, complex iconic large rail and road bridges in sea and rivers, flyovers in congested urban areas and harbour infrastructures. To coordinate these types of complex projects, we utilise our strengths in socio-techno-economic feasibility, traffic studies, prioritisation and master plans, detailed design, construction supervision and PMO.
Industry : At the high end of infrastructure development, using its track record in complex project management and industrial information systems, we offer solutions to support all kind of industrial manufacturers and process industries for construction programs, maintenance and operations, engineering design and systems integration. Our expertise in project management means we can meet major challenges of our industrial clients:  increased productivity, personal safety, environmental and site protection as well as industrial cost control. Our multidisciplinary project teams also help our clients take full advantage of the digital era moving towards industry 4.0, with data sciences and digital engineering solutions.
Environment and water development: Assystem has been providing water management services for decades around the world, particularly in Asian countries such as India and in the Middle East for: 
Land use planning (urban and rural)
Large water treatment plants and supply systems (raw water to tap water)
The creation or modernisation of water supply systems
Wastewater collection and treatment
We also have expertise in waste collection and treatment, as well as in the production of electricity from the treatment of sludge from wastewater treatment plants.
For all types of project, Assystem offers a wide range of services in site characterisation, environmental and impact studies, and geosciences to comply with local regulations. Additionally, we manage projects using high-performance digital solutions to anticipate design choices defined during the design phase and to ensure the performance of architectural and engineering design for the development of infrastructures and public facilities. Sourcing solutions that favour sustainability, we also contribute to territorial development by supporting the utilisation of decarbonised energy options including nuclear, renewables, and clean hydrogen.
Masterplanning, zoning and urban design

Management of complex projects, from feasibility/design to the delivery of installations

Geosciences and environmental services

Using digital technologies for interface management and legacy inclusion (BIM…)
Our references in CITIES & TERRITORIAL DEVELOPMENT