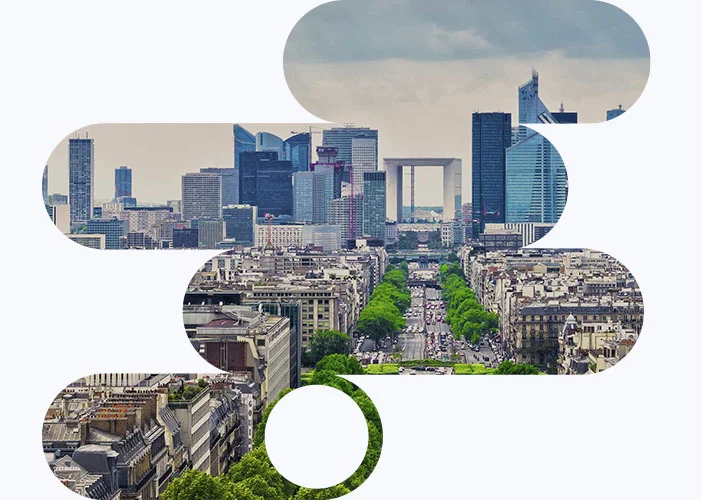 Assystem in France
Assystem is supporting France in its switch to low-carbon energy, transport, and infrastructure.

Faced with the climate emergency, decarbonising energy represents the greatest challenge of all. Thanks to its nuclear facilities, France's electricity mix is one the least carbon-emitting in Europe.

Despite this, the RTE's "Energy Futures 2050" report highlights multiple challenges to be overcome before France can achieve carbon neutrality by the middle of the 21st century, including the massive deployment of low-carbon electricity production methods (nuclear, wind, solar, etc.).
In France, Assystem is supporting energy transition projects by providing engineering services and digital solutions and services in multiple sectors: nuclear, renewable energies, hydrogen, electricity networks, transport, cities and regional development.
Founded in 1966 to support EDF in the implementation of France's nuclear power plants, Assystem now supports nuclear projects throughout their life cycle. We are one of the top three nuclear engineering companies in the world. Our experts benefit from key engineering expertise and digital skills for the benefit of the nuclear fleet's maintenance, the extended operation of reactors currently in service, and the construction of new EPRs.
We oversee numerous projects for the implementation of the Grand Carénage (major refit) programme, and we are involved in the Flamanville EPR facility. We are also involved in the future of nuclear power: we have signed a partnership with NAAREA for the development of an XSMR (Extra Small Modular Reactor), and we are contributing to the ITER undertaking through project management and engineering missions.
In addition to providing its nuclear power expertise, Assystem supports the deployment of renewable energies. To fulfil its objective of doubling renewable electricity production by 2030, France has initiated a number of offshore wind projects. In this respect, Assystem oversaw HSE compliance during the construction phase of one of these future wind farms.
Assystem also participates in the decarbonisation and electricifcation of the transport sector. Our teams have carried out studies and provided project and PMO support for projects develop hydrogen as a source of energy for the in the rail, waterway, and road transport sectors.
We also apply our engineering and digital expertise to projects for the modernisation, maintenance, and extension of the French rail network.
Several leading French industrial groups have put their trust in us: EDF, the French Alternative Energies and Atomic Energy Commission (CEA), Framatome, Orano, RATP, Société du Grand Paris, SNCF Réseau, Thales, among others.
Our offices
Avoine

Assystem
Work In Base
1 Georges JOUBERT Street
37420 AVOINE
France



Brest

Assystem
Bâtiment la Caravelle,
7 du commandant Malbert Street
29200 BREST
France

Bruyères-le-Châtel

Assystem
TERATEC
2 de la piquetterie Street
91680 BRUYERES LE CHATEL
France

Cherbourg

Assystem
44 des Vindits Street
P.O. Box 70
50130 CHERBOURG-OCTEVILLE
France

Phone: +33 (0)2 33 87 37 10
Fax: +33 (0)2 33 87 37 89

Chessy

Assystem
ANTARES
3 de la Galmy Street, Val d'Europe
77700 CHESSY
France

Codolet

Assystem
de la Cèze Avenue
Pôle d'activité Irène Joliot Curie
30200 CODOLET
France

Phone: +33 (0)4 42 90 15 45