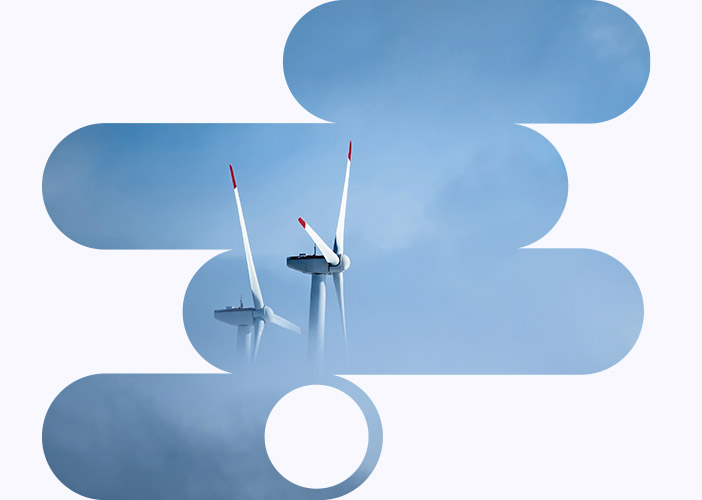 Renewables
Confronted with the realities and challenge of climate change, a revolution is underway to provide clean and sustainable energy for all.

The power generation industry is indeed facing major challenges due to the increase in demand worldwide for energy, combined with the goals of achieving sustainability of energy supply and reductions in greenhouse gas emissions.
Context
Generating electricity using renewable sources is changing the profile of the energy market, owing to the variable nature of solar and wind power, location and access challenges, operation and maintenance needs and the development of new supply chains.
Design and build renewable power plants adapting to the needs of each territory
While some countries are already very advanced in their journey, others are still at the stage of preliminary reflection to develop renewable energy systems: therefore, the major players in the energy industry have to be agile to establish themselves in each country and adapt to each country's specific requirements.
Control production costs and maintain continuous service delivery
Predicting a renewable energy plant's operational lifespan and planning for maintenance activities is a key factor in maintaining continuity of electrical supply and ensuring that generating plants continue to operate efficiently. Smart sensors and digital analytics can be applied to provide a cost-effective solution for monitoring plant characteristics in real-time and optimising plant performance and efficiency.
OUR EXPERTISE IN RENEWABLE ENERGIES
Our expertise is in managing large complex projects and our ability to integrate systems.
With an in-house civil engineering capability, we can undertake projects taking full responsibility for all the technical aspects:
Design and specification of new installations
Revamping of existing facilities
Design of structural enhancements
Design of the associated infrastructures
Our expertise in the equipment and functional systems that constitute the "Turbine Hall environment" and the Balance of Plant (BOP) enables us to deliver client support in upstream project phases, such as site environmental studies and impact analyses of standards and regulations on equipment design. Our multidisciplinary project teams are involved from the basic design and detailed design phases for the general layout of the BOP (pipework, structure, electricity, etc.) right through to testing and facility commissioning.
Furthermore, our experience in the field of comprehensive safety enables us to meet the safety challenges affecting our clients,  to guarantee personal safety as well as environmental and site protection.
Project & construction management

Geological & geotechnical studies, environmental impact assessment

Electrical Connections & Grids: systems design and integration
Our references in renewable energies