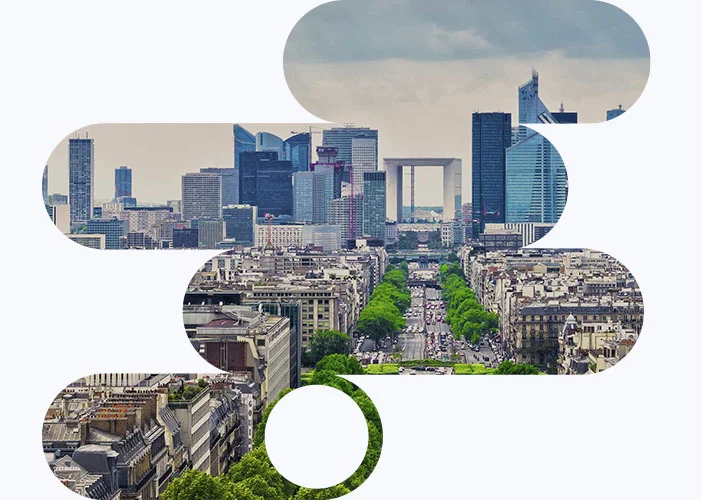 About us
Assystem is an independent international company with one main mission: to accelerate the global energy transition.
Who are we?
Drawing on more than 55 years' experience in highly regulated sectors subject to strict security and safety requirements, we provide our customers with engineering and project management services, as well as digital services and solutions to optimise the performance of complex infrastructure projects throughout their life cycle.
The Group is currently ranked second in the world for nuclear engineering.
Our purpose
The fight against climate change is one of the priorities of the 21st century. It implies an energy transition on a global scale, with the objective of making safe and sustainable energy accessible to all populations.

Assystem's mission is to help step up the energy transition throughout the world. We devote all of our energy to this task, combining our historical expertise in engineering and project management with digital technologies to create a reliable and sustainable energy future for all.

For this purpose, we work globally on the development of low-carbon electricity, both in terms of its production and its distribution, through the expansion of nuclear energy and renewable energies throughout the world. We also focus on the renovation of power grids and the development of new uses for electricity, such as the development of green hydrogen with a view to decarbonising transport and industry.

At Assystem, we consider ourselves to be activists in the fight against climate change and in the development of nuclear energy throughout the world. We firmly believe that nuclear energy is essential in the fight against climate change.
Dominique Louis

Chief Executive Officer

Dominique Louis is

Chairman of the Assystem SA Board of Directors

. A graduate of the ENSEM school of engineering, Dominique Louis began his career as a testing engineer at ATEM, specialised in industrial and nuclear engineering. He went on to found the company R'data, followed by Alphatem, a joint subsidiary with COGEMA, which would later merge to form Assystem. In 1995, Dominique Louis oversaw the initial public offering of Assystem which had a staff of 3,000 engineers and technicians and an annual revenue of €250 million at the time. The phasing out of nuclear power in the late 1990s marked the beginning of Assystem's transformation, whereupon it would diversify into the aeronautics and automotive sectors and develop internationally. In 2017, Dominique Louis decided to refocus the Group's business on its historic areas of expertise: nuclear power and complex infrastructures. For this purpose, Assystem sold 60% of its outsourced R&D business to the Ardian investment fund and acquired a 5% stake in Framatome to confirm the Group's role in the French nuclear sector. In 2018, Dominique Louis and his advisor Jean-Louis Ricaud, published a book entitled

"2050 : la France sans Carbone" (2050: A Carbon-Free France)

, which set out their uncompromising review of trends in global CO

2

emissions, and the solutions to be deployed to ensure access to competitive, decarbonised energy for all. 

In 2021, Dominique and Jean-Louis Ricaud published their second book,

"Energie nucléaire, le vrai risque" (Nuclear energy, the real risk), in which they demonstrate the role of nuclear power as an all-important solution to the climate challenge.

Dominique Louis was made a

Chevalier

(Knight) of the

Légion d'honneur

(Legion of honour).

Stéphane Aubarbier

Chief Operating Officer

Stéphane Aubarbier is a graduate of the INSA Lyon engineering school and holds an MBA from the ESCP-EAP European Business School. He began his career at Assystem in operational functions before taking charge of the automotive business. He then applied his marketing skills by working on service offers at ABB. He was Director of the maintenance contracts division for France, then Southern Europe, before going on to lead the Marketing and Business Development department of ABB Service, Southern Europe. In 2002, Stéphane joined Assystem's Executive Committee to develop its engineering activities and in 2005, he was appointed as Executive Vice President of the Group, before being named as Chief Operating Officer in 2018. Between 2012 and 2014, Stéphane was President of the French professional engineering federation Syntec Ingénierie. He has been a member of the French nuclear industry strategic committee (CSFN) since 2011 and President of the Nuclear European Leaders network since 2022.

Chief Financial Officer & Deputy CEO

Philippe Chevallier

Chief Financial Officer & Deputy CEO

Philippe Chevallier is a graduate of the ESSEC business school and the Paris Institute of Political Studies. Before joining Assystem, he was Chief Financial Officer at Elior for 12 years, overseeing capital refinancing operations, capital development operations, and mergers and divestments. He began his career at Usinor (now ArcelorMittal) where he was Head of Financing and Director of Mergers & Acquisitions. In 2015, Philippe was appointed Chief Financial and Legal Officer at Assystem. He is currently Chief Financial Officer and Deputy CEO and a member of the Executive Committee.

Senior Vice President of Digital Activities

Christian Jeanneau

Senior Vice President of Digital Activities

A graduate of the INSA Lyon engineering school, Christian Jeanneau joined Assystem in 1995 as a testing engineer, working in French nuclear plants and in the naval sector, among others. After gaining further experience in South Africa in infrastructures, then in the automotive industry as Director of Operations, Christian took the helm of the Engineering business in 2008. In 2011, he became Director of Assystem's nuclear activities in France and in 2013, Managing Director in France for the Energy, Infrastructures and Life Science activities. Since 2022, he has served as Senior Vice President for the Group's digital activities, and is a member of Assystem's Executive Committee. He is also Director of the Assystem Institute, our training body created in 2008 to transfer the Group's skills and knowledge to new generations of engineers. Christian is also the administrator and Vice President of Syntec Ingénierie, in charge of social issues and training. Thanks to Christian, Syntec Ingénierie is a partner of the Women's Forum for the Economy & Society initiative.

Senior Vice President of Engineering Activities

Thomas Branche

Senior Vice President of Engineering Activities

A graduate of France's prestigious Ecole Polytechnique and a member of the Corps des Mines, Thomas Branche began his career at Total Exploration & Production, before joining the French Ministry for Energy, where he managed the nuclear branch of the General Directorate for Energy and Climate Change. He, then, became Deputy Head of the cabinet of the French Minister for Industry, Energy, and the Digital Economy. Thomas joined Assystem in July 2012 taking charge of the French Nuclear business unit. In 2016, he moved to Dubai as Managing Director of Assystem's activities in the Middle East and Central Asia. Upon returning to France in 2017, Thomas became Senior Vice President in charge of all Assystem's activities related to the energy transition and infrastructures worldwide. In January 2022, he was appointed Senior Vice President in charge of Engineering. As a a member of Assystem's Executive Committee, Thomas represents the French professional federation of engineering companies on France's Hydrogen Council.

Senior Vice President in charge of Human Resources

Emmanuelle Capiez

Senior Vice President in charge of Human Resources

Emmanuelle Capiez holds a Master's degree in Economics and began her career as a consultant in international HR firms specialising in headhunting (Egor, FSC Consultants, etc.). After 6 years in a consulting firm, Emmanuelle joined the SIRIS Group - Telecom Operator - as HR Development Manager, building an expertise in recruitment, training, internal mobility, Key People management, to then take on a broader role as HR Business Partner. In 2003, Emmanuelle took on the role of Human Resources Director at Assystem, first in BU functions, then in France, then internationally, before taking overall responsibility for Human Resources as Senior Vice-President of Human Resources within the Group. She is a member of the Executive Committee.

Marketing and Communication Director

Anne-Charlotte Dagorn

Marketing and Communication Director

In 2012, Anne-Charlotte graduated from the Paris Institute of Political Studies and Peking University with a dual master's degree in international affairs, specialising in the environment and sustainable development. She began her career at Orano in the strategy department, before joining Assystem in 2014. She is presently Assystem's Marketing & Communication Director and a member of the Executive Committee. From 2017 to 2021, Anne-Charlotte was also Gender Diversity Programme Director. In 2019, she was appointed Chair of the Communication Commission for the French Nuclear Industry Association (GIFEN).

Robert Plana

Chief Technology Officer

Holder of a doctorate in Information and Communication Sciences and Technologies, Robert Plana has spent more than 30 years working in research and design, innovation, and digital transformation. After teaching for several years at the Paul Sabatier University of Toulouse and at the "Institut Universitaire de France", he pursued a career in research and design and innovation management, holding various management positions at the CNRS, the French National Research Agency, and the French Ministry of Higher Education and Research. He continued his career in innovation at Alstom and GE where he oversaw various R&D programs in the field of smart grids and digital twins. Robert joined Assystem in 2017 as Chief Technology Officer. As a member of the Executive Committee, Robert leads the Group's innovation and digital transformation strategy. Drawing on his expertise in cutting-edge industry, Robert supports Assystem's strong development ambitions to step up its digital transformation and its innovative capacity to increase the performance of the services delivered to its customers.
World
Europe
India
Asia and pacific
Middle-East